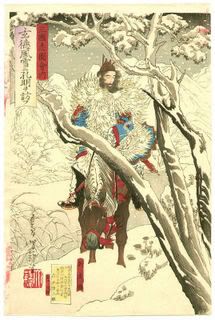 You are cordially invited to attend
DC Radical Faerie Yule:
Legend of the Snow Prince
December 8, 6:30 p.m.-9:00 p.m.
Universalist National Memorial Church
1810 16th St NW
Washington, DC
Who is this "Snow Prince"?
"Legend of the Snow Prince" is an original play by the DC Radical Faeries inspired by Japanese fairy tales. Kikori, the woodsman finds love and danger in the arms of Yuki, prince of the court of Winter. What will be their fate? Come and find out!
What will happen at Faerie Yule?
Enjoying snacks and warm beverages!
Singing jolly seasonal tunes!
Dancing traditional social dances!
Being astounded by theatrical wonder!
Is there a fee?
We will graciously accept donations of $5.00 or more upon arrival. But DC Radical Faerie Yule is open to all who wish to attend. No one will be turned away for lack of funds.
What should I bring?
Do: Bring friends and family!
Do: Bring your dancin' shoes!
Do: Bring colorful items to add to our seasonal altars!
Do Not: Bring food or drinks as they will be provided
Who are the DC Radical Faeries?
The DC Radical Faeries is a community-based organization of men and women who explore queer spirituality. We promote an understanding of Earth-based religions and interfaith cooperation. We welcome all queer spirits, straight, gay, bi, trans, two-spirited or searching. We welcome people from all walks of life who want to share and nurture their essential fabulosity.
For additional questions or information please contact Fritter at:
info@dcradfeys. org